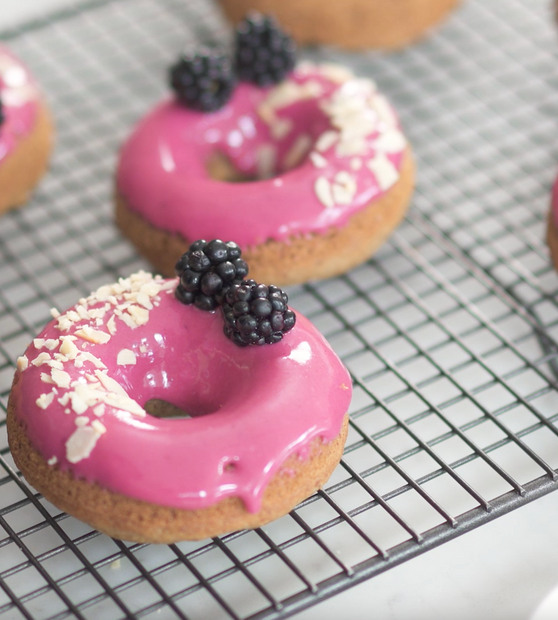 Plant Milk · Pulp Recipe
Blackberry Almond Donuts
Indulge in the delightful fusion of blueberries and almonds with these scrumptious glazed doughnuts. A treat worth savoring!
 Ingredients:
For the Almond Milk:
65g almonds
1 pitted date
For the donuts:
Dry ingredients:
130g plain flour
50g brown sugar
1 tsp baking powder
1/2 tsp bicarbonate of soda
1/4 tsp salt
1/2 tsp cinnamon
Wet ingredients:
70g almond pulp (after processed by Milky Plant)
 120ml almond milk (freshly made with Milky Plant)
1 tsp lemon juice
30ml oil
1/2 tsp almond extract
75g blackberries
For the glaze and decoration:
75g blackberries
200g icing sugar
1 tsp lemon juice
Extra blackberries and flaked almonds, to decorate
Instructions:

For Almond Milk:

Add ingredients to the blending compartment, ensuring they don't exceed the Max line.

Fill the water tank with clean water.
Press the start button and patiently wait a couple of minutes for Milky Plant to perform its magic. 
For the donuts:
Grease a doughnut pan and preheat your oven to 180°C (350°F).
In a large bowl, combine the dry ingredients.
In a separate bowl or jug, combine the wet ingredients.
Pour the wet mixture into the dry mixture and fold them together until well combined.
Gently fold in 75g of blackberries into the doughnut batter.
Spoon or pipe the doughnut batter into the prepared doughnut pan, distributing it evenly.
Bake the doughnuts in the preheated oven for 9-10 minutes or until they turn golden and are baked through.
Allow the doughnuts to cool in the pan for a few minutes, then carefully remove them and place them on a cooling rack to cool further.
Prepare Glaze:
Press 75g of blackberries through a sieve to extract the juice without seeds or pulp.
 In a bowl, combine:
200g icing sugar
1 tsp lemon juice
Enough blackberry juice to achieve the desired consistency for the glaze.
Glaze and Decorate:
Dip the smooth side of each doughnut into the glaze, coating them evenly.
Decorate the glazed doughnuts with extra blackberries and flaked almonds.