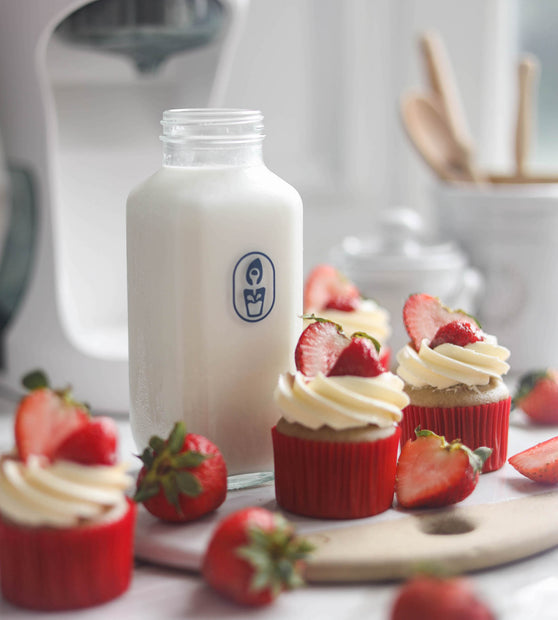 Plant Milk · Pulp Recipe
Vanilla Cashew Cupcakes
From the first sip to the last bite, this combination of Vanilla Cashew Milk and Vanilla Cupcakes is an invitation to savour the moment and treat yourself to a truly enchanting experience of flavours and textures. Let these delightful creations transport you to a world of sweetness and joy.
For Vanilla Cupcakes:
Ingredients:
150g cake flour
1 tsp baking powder
1/2 tsp baking soda
70g caster sugar
200g cashew milk (freshly made with Milky Plant)
20g cashew pulp (after processed by Milky Plant)
1/3 cup coconut oil
1 tbsp white vinegar
2 tsp vanilla bean extract
1/4 tsp salt
Instructions:
Preheat the oven to 170°C (340°F). Prepare a muffin pan with cupcake liners and set it aside.
In a large bowl, combine all the ingredients and whisk until well combined and smooth.
Divide the cupcake batter evenly between 7 cupcake liners in the muffin pan.
Bake for approximately 20 minutes or until a toothpick inserted into the center of a cupcake comes out clean.
Remove the cupcakes from the oven and let them cool completely before frosting.
For the Frosting:
Ingredients:
100g dairy-free butter
1 to 1 1/2 cups powdered sugar
1 tsp vanilla bean extract
1/4 tsp salt
1/2 to 1 tbsp cold cashew milk (freshly made with Milky Plant)
Instructions:
In the bowl of a stand mixer, whip the dairy-free butter using the paddle attachment on medium to high speed for about 2 minutes.
Stop the mixer and add the sifted powdered sugar and salt. Mix on low speed until incorporated, then scrape the bottom and sides of the bowl.
Add in the vanilla bean extract and milk. Mix until the frosting reaches your desired consistency.
Pipe the frosting onto the cooled cupcakes.
Serve and enjoy these delightful and vanilla-infused treats!
Vanilla Cashew Cupcakes Recipe Video