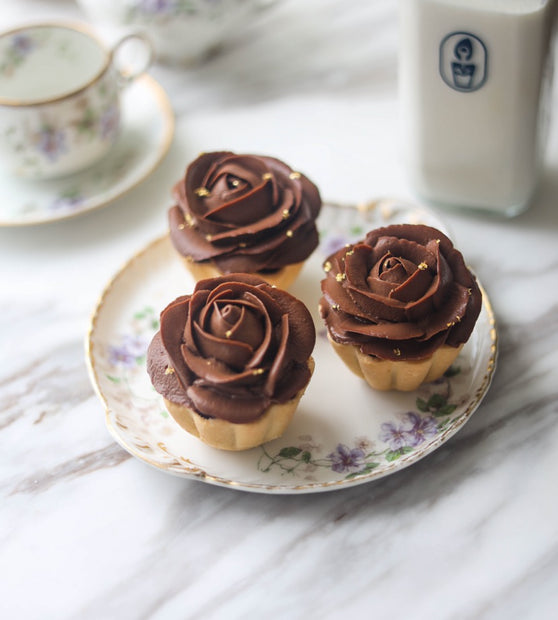 Plant Milk · Pulp Recipe
Cashew Milk Chocolate Tart
As you take your first bite, you'll be transported to a world of pure chocolate delight. Whether you're treating yourself or impressing guests, this Chocolate Cashew Tart is a showstopper that will leave everyone craving for more.
Ingredients:
for the whipped chocolate ganache:
180g dark chocolate
400ml dairy free whipping cream
for the filling:
150g dark chocolate, melted
150g coconut cream, room temperature
1/8 tsp sea salt
2 tbsp cashew pulp (after processed by Milky Plant)
Combine all ingredients and mix until smooth.
for the tart shell:
150g all purpose flour
80g powdered sugar
30g almond meal
35g cornstarch
90g butter of choice
3 tbsp cashew milk
1/2 tsp vanilla extract
1/4 tsp sea salt
or
165g flour
80g powdered sugar
30g almond flour
30g starch
85g dairy free butter, cubed
25g cashew milk

Instructions:
for the whipped chocolate ganache:
Prepare the ganache. Melt chocolate and whipping cream. Keep stirring until combined. Cover with plastic wrap and refrigerate overnight. (Ganache should be spoonable)
for the tart shell:
Preheat the oven to 180°C.
In a food processor, add the tart shell ingredients and pulse until a dough ball forms.
Refrigerate the dough for at least 10 minutes.
Roll out the dough and gently place it into a tart pan.
Press the mixture firmly into the tart pan with your hands, covering the bottom and sides of the pan. If the dough gets too warm, chill it before continuing.
Bake the crust for 15 minutes or until it turns golden brown.
Allow the tart to cool in the pan.
Fill the tart with the chocolate cashew filling and refrigerate until set.
Pipe chocolate ganache on top of the tart.
Serve and enjoy!