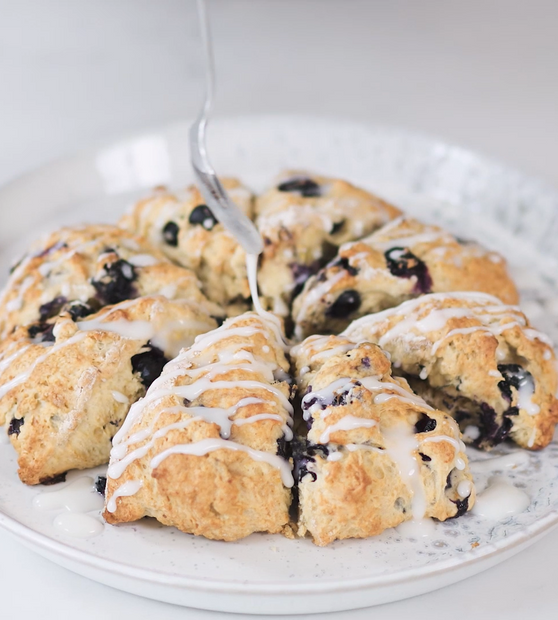 Plant Milk · Pulp Recipe
Blueberry Lemon Scones
Indulge in these delightful Blueberry Lemon Scones – a perfect blend of zesty lemon, juicy blueberries, and a sweet glaze.
Ingredients:
3 tbsp sugar
Zest of one lemon (plus a little juice if you want it extra lemony!)
75g self-raising flour
1/4 tsp salt
1/2 tsp baking powder
45g dairy-free butter
80ml oat milk (freshly made with Milky Plant)
1.5 tsp lemon juice
100g blueberries
For Lemon Glaze (optional):
100g icing sugar
2-3 tsp lemon juice (adjust to get the consistency you want)
Instructions:
Preheat your oven to 200°C (392°F) and line a baking tray with parchment paper.
In a mixing bowl, combine the sugar and lemon zest, and rub them together to release the lemony aroma.
Add the self-raising flour, salt, and baking powder to the bowl, and stir to combine.
Add the dairy-free butter to the dry mixture and rub it in until the mixture resembles coarse breadcrumbs.
In a separate container, mix the oat milk with 1.5 tsp of lemon juice.
Pour the oat milk mixture into the dry ingredients and stir until the dough comes together.
Gently knead the blueberries into the dough, forming a thick disc.
Place the dough disc on the prepared baking tray and cut it into wedges, separating them slightly.
Bake the scones in the preheated oven for 18-20 minutes or until they are golden brown.
If you choose to make the lemon glaze, mix together the icing sugar and 2-3 tsp of lemon juice until you achieve the desired consistency. Drizzle the glaze over the top of the scones.