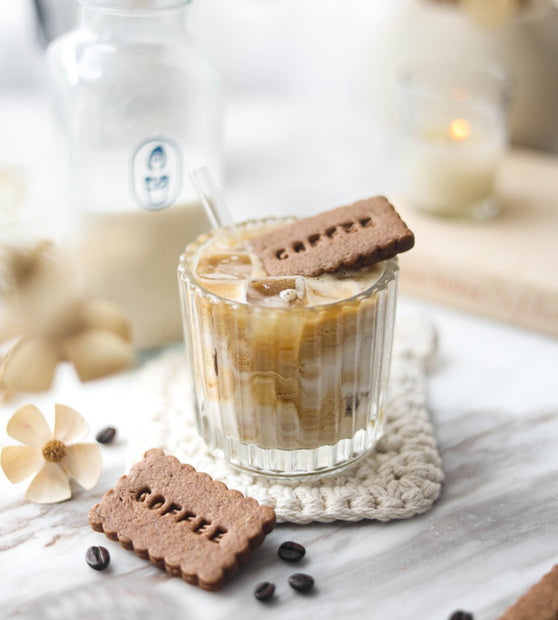 Nut Milk · Plant Milk
Almond Milk Latte and Coffee Cookies
Indulge in the perfect combination of rich espresso and creamy almond milk with our Almond Latte recipe. But wait, there's more! We've also included a delightful treat to accompany your latte—homemade Almond Cookies.
Let's get baking and brewing!
Ingredients:
Almond latte:
2 ounces espresso
1/3 cup almond milk ( make it fresh using Milky Plant)
Ice cubes
Cookies:
85g dairy free butter
80g powdered sugar
185g all purpose flour
40g almond pulp (after processed by Milky Plant)
5g cocoa powder
1 tsp instant coffee powder
1/4 tsp salt
Instructions:
In a stand mixer, cream the butter, powdered sugar, and instant coffee powder.
Add in the flour, cocoa powder, almond pulp, and salt. Mix until a dough forms.
Cover the dough with plastic wrap and chill it in the fridge for 15 minutes.
Preheat the oven to 180°C.
Roll the dough out onto a piece of parchment paper and cut out the dough using a cookie cutter.
Bake the cookies for 15 minutes.
Allow the cookies to cool completely.
Serve the cookies with almond milk latte.
Enjoy!