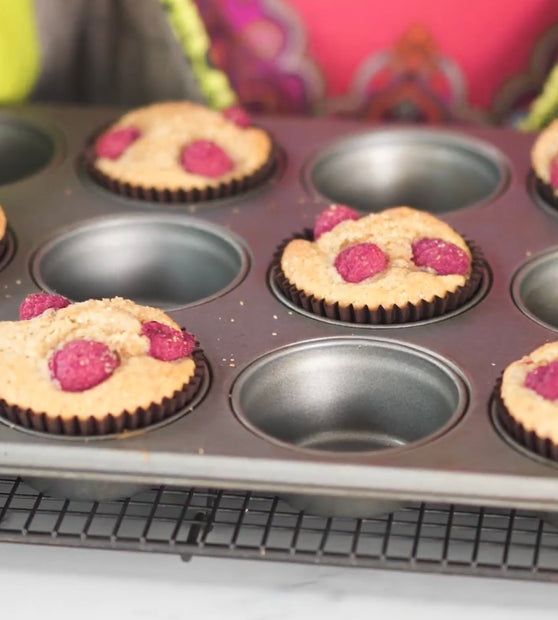 Plant Milk · Pulp Recipe
Raspberry Oat Muffins
Immerse yourself in the symphony of flavours as sweet raspberries intertwine with hearty oats and fragrant vanilla. Whether you savour them warm or cool, these muffins promise a delightful experience
Ingredients:
For the oat milk and pulp
1 pitted date
1.5 scoops of oats
For the muffins:
150g plain flour
25g oat pulp (after processed by Milky Plant)
1 1/4 tsp baking powder
A pinch of salt
75g brown sugar
120ml oat milk (freshly made with Milky Plant)
40ml oil
1/2 tsp vanilla
160g raspberries
Demerara sugar (optional)
Instructions:
Preheat the oven to 180C/350F.
Line muffin tin with 6 muffin cases.
Mix the flour, baking powder and salt in a large bowl.
Separately, combine the oat pulp, brown sugar, oat milk, oil and vanilla.
Pour wet mixture into dry and mix until just incorporated.
Fold in most of the raspberries, saving some to decorate the top.
Scoop the muffin mixture into the prepared tin.
Stud with additional raspberries and sprinkle with some Demerara sugar for extra crunch if desired.
Bake for 20-25 minutes until golden and springy.
Let cool in tin a few minutes (until cool enough to handle), then remove to a rack to cool completely. Delicious warm or cool.
Eat within two days.