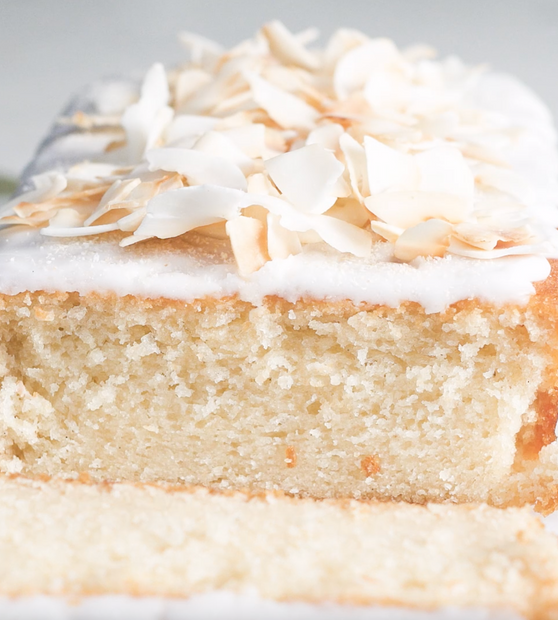 Plant Milk · Pulp Recipe
Coconut Loaf Cake
Indulge in our Coconut Milk Loaf - a moist tropical delight!
Pure paradise in every slice.
Ingredients:

For the loaf:
180ml coconut milk   (freshly made with Milky Plant)
110ml vegetable oil
75g coconut yogurt
200g caster sugar
2 tsp apple cider vinegar
1 tsp vanilla (I used 1/2 tsp in the video as I was using vanilla bean paste)
1/2 tsp coconut extract
1/4 tsp almond extract
210g plain flour
2 tsp baking powder
1/2 tsp salt
For the glaze:
100g icing sugar
3-5 tsp coconut milk, as needed to get the desired consistency
Instructions:
Preheat the oven to 180C/350F. Line a loaf tin and set it aside.
In a large bowl, mix together all the wet ingredients for the cake.
Sift in the dry ingredients and whisk together until only just combined.
Pour the mixture into the prepared tin and bake for 55-60 minutes until golden and a skewer comes out clean.
Cool the cake completely.
Make the glaze by mixing the sugar and milk together to achieve the desired consistency.
Toast the coconut pulp until it dries out and is golden.
Once the cake is cool, top it with the glaze and sprinkle over the toasted coconut.
Enjoy your delicious coconut loaf!