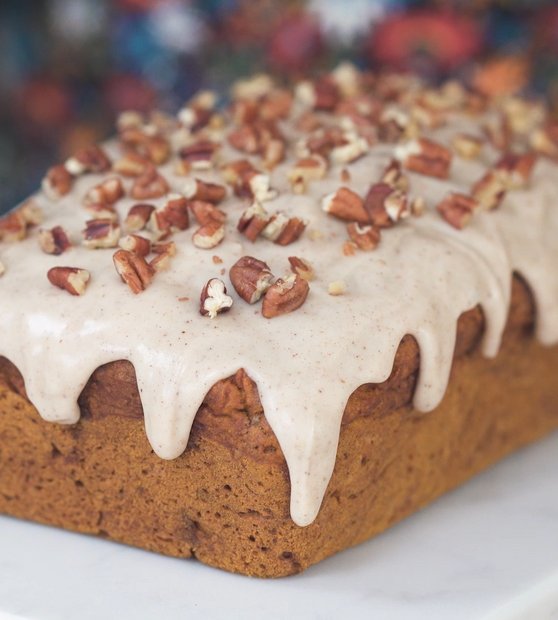 Plant Milk · Pulp Recipe
Pumpkin Spice Loaf Cake
Savor the warmth of autumn with our Pumpkin Spice Loaf Cake – a moist, spiced delight drizzled with a delectable glaze.
Ingredients:
For the Loaf:
 280g plain flour
200g caster sugar
1 tsp baking powder
1 tsp bicarbonate of soda
1 tbsp pumpkin pie spice
1/2 tsp salt
80ml oat milk (made with Milky Plant)
80ml oil
425g pumpkin puree
Oat pulp (after processed by Milky Plant)
For the Glaze:
100g icing sugar
2 tsp maple syrup
1/2 tsp pumpkin spice mix
Oat milk (after processed by Milky Plant)
Chopped pecans (for decoration)
Instructions:
Preheat the oven to 180°C/350°F.
Prepare a loaf tin by greasing and lining it with parchment paper.
In a large bowl, mix the following dry ingredients: plain flour, caster sugar, baking powder, bicarbonate of soda, pumpkin pie spice, and salt.
In a separate bowl, combine the oat pulp, oat milk, and oil.
Pour the wet mixture into the dry mixture and mix until well combined.
Stir in the pumpkin puree until completely mixed together.
Transfer the batter into the loaf tin and smooth the top.
Bake for 45-50 minutes, or until a wooden skewer comes out clean when inserted.
Let the loaf cool in the tin for 10 minutes, then remove it to a rack to cool completely before decorating.
For the Glaze:
In a separate bowl, combine icing sugar, maple syrup, and pumpkin spice mix.
Add oat milk gradually until you achieve the desired glaze consistency.
Spread the glaze over the cooled loaf.
Sprinkle with chopped pecans for decoration.