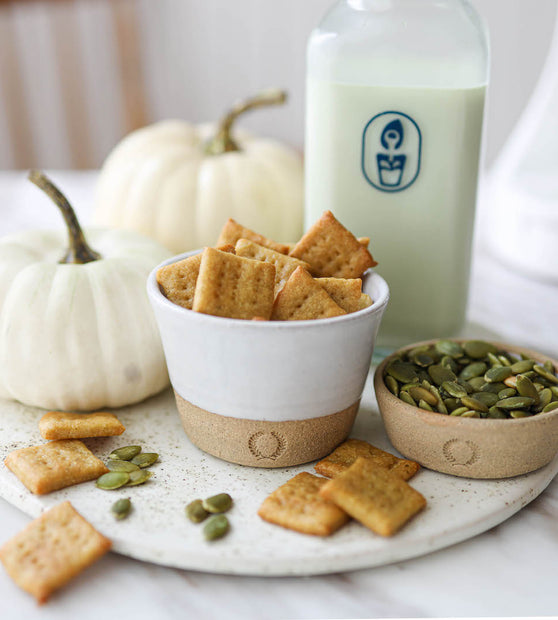 Plant Milk · Pulp Recipe
Pumpkin Milk and Crackers
Make homemade pumpkin seed milk and delicious pumpkin seed crackers with this easy recipe. Perfect for a healthy, crunchy snack!
Ingredients:
For the Milk:
1/3 cup pumpkin seeds
2 tsp maple syrup
For the Crackers:
60g pumpkin seed milk (made with Milky Plant)
30g oil of choice
30g pumpkin seed pulp (after processed by Milky Plant)
3g salt
110g all-purpose flour
2g yeast
1g soda powder
Instructions:

For the Milk:
Add all the ingredients to the blending compartment. Make sure not to pass the max line.

Fill up the water tank with clean water.

Press the start button and wait a couple of minutes for Milky Plant to work its magic.
For the Crackers:
 In a bowl, mix the ingredients for the crackers.
Combine the wet ingredients (pumpkin seed milk, oil, and pumpkin seed pulps) with the dry ingredients (flour, salt, yeast, and soda powder) in the second bowl. Mix until well combined.
Roll out the dough to the thickness of a coin (very thinly).
Use a pizza cutter to cut the dough into squares.
Prick each square once in the middle with a fork.
Preheat the oven to 180°C (356°F).
Place the cut and pricked dough squares on a baking sheet.
Bake in the preheated oven for 15 to 17 minutes or until the crackers are slightly golden.
Let the crackers cool completely.
Store the cooled crackers in an airtight jar for up to 1 week.