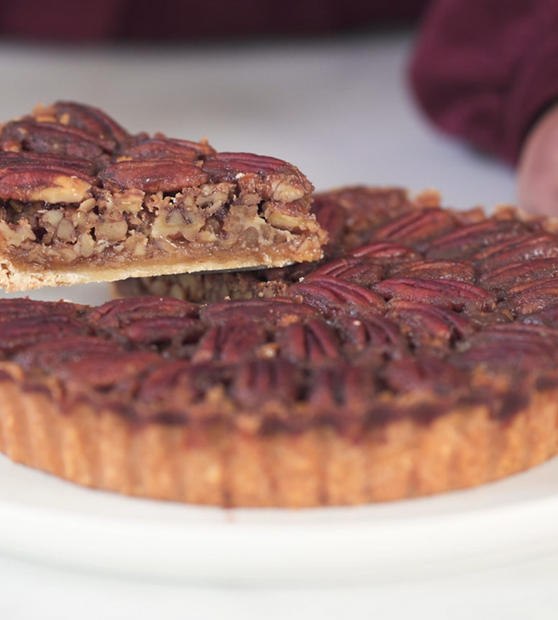 Nut Milk · Plant Milk
Pecan Pie
Savor the goodness of our Vegan Pecan Pie—buttery crust, maple-kissed pecans. Simple. Delicious. Irresistible. 
Ingredients
1 shop-bought 8" pastry case, pre-baked (or make your own)
110g vegan butter
150g brown sugar
120ml maple syrup
1 tsp vanilla
1/4 tsp salt
1 1/2 tbsp cornflour
60ml oat milk (freshly made with Milky Plant)
240g pecans, chopped
100g pecans, unbroken
Instructions:
Preheat the oven to 180C/350F.
In a saucepan, melt the butter, sugar, maple syrup, vanilla, and salt until dissolved and smooth.
In a separate bowl, mix together the cornflour and milk until smooth.
Add the milk mixture to the maple syrup mixture and whisk to combine.
Stir in the chopped pecans, ensuring they are coated in the mixture.
Pour the filling mixture into the pastry case, leveling the top.
Use the unbroken pecans to create a pattern on top of the pie.
Bake the prepared pie for 35-40 minutes until firm at the edges and slightly wobbly in the middle.
Remove from the oven and let it cool. Once cool, chill in the fridge for 3-4 hours.
Serve with a spoonful of whipped cream or creme fraiche.