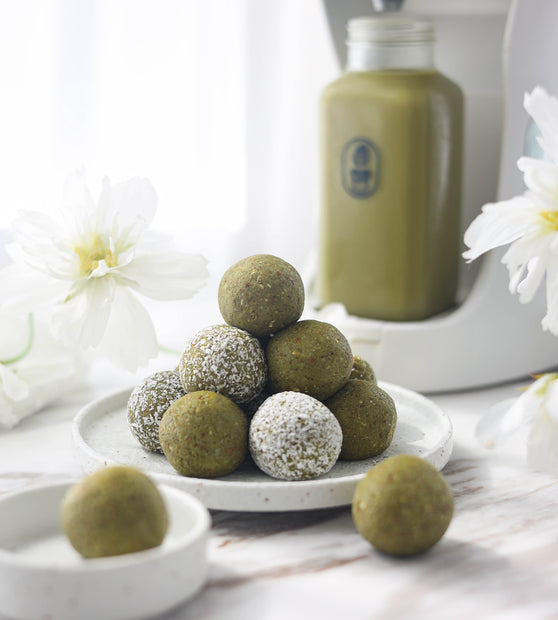 Plant Milk · Pulp Recipe
Matcha Apricot Bites
These little bites are packed with wholesome goodness and make for a satisfying snack.
Ingredients:
For Matcha Oat Milk:
80 ml of rolled oats
1/2 tsp Matcha
 For Matcha Apricot Bites:
150g almonds
110g dried apricots (pre-soaked for 30 minutes and drained)
70g dates
28g matcha oat pulp (after processed by Milky Plant) 
2 tsp matcha powder
1/4 tsp sea salt
Instructions:
For Matcha Oat Milk:
Add all the ingredients to the blending compartment. Make sure not to pass the max line.
Fill up the water tank with clean water.
Press the start button and wait a couple of minutes for Milky Plant to works its magic.
For Matcha Apricot bites:
In a food processor, purée the dried apricots, dates, maple syrup, matcha powder, and matcha oat pulps until they form a paste.
Scrape the paste from the sides of the food processor and add in the almonds and sea salt.
Process everything together until well combined and the mixture forms a cohesive mixture.
Take about 1 tablespoon of the mixture and roll it into a ball shape.
Place the apricot bites on a tray or plate lined with parchment paper.
Refrigerate the bites for at least 2 hours to allow them to firm up.
Once chilled, the Matcha Apricot Bites are ready to be enjoyed. Serve and savour these delightful and nutritious treats.