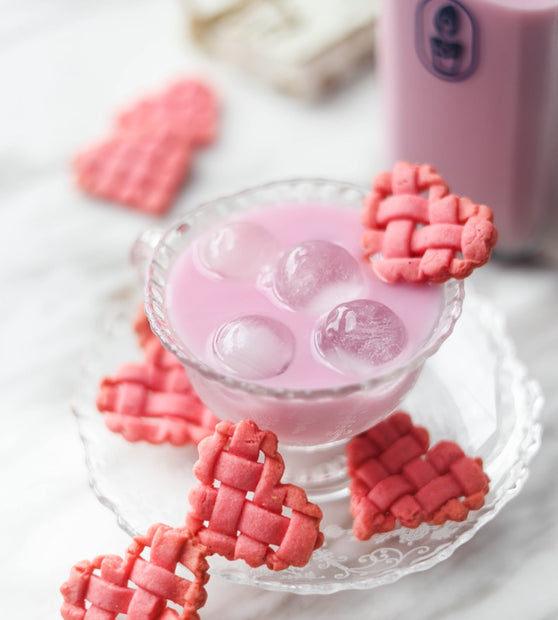 Plant Milk · Pulp Recipe
Dragon Fruit Oat Milk & Cookies
Embrace the enchantment of this unique combination and embark on a flavour-filled journey like no other. Experience a burst of tropical magic with Dragon Fruit Oat Milk and Cookies—a delicious fusion of vibrant flavours.
Ingredients:
For the Milky Plant Dragon Fruit Oat Milk:
1/2 cup rolled oats
1 1/2 tbsp red dragon fruit
1 tbsp maple syrup
For the cookies:
80g dairy free butter
70g powdered sugar
185g all purpose flour
60g oat & pink dragon fruit pulps
1 - 2 drop of pink food colouring
1 tsp vanilla
Pinch of salt
Instructions:
For the Milky Plant Dragon Fruit Oat Milk:
Add ingredients to the blending compartment. Make sure not to pass the Max line.
 Fill up the water tank with clean water.
Press the start button and wait a couple of minutes for Milky Plant to works its magic
For the Cookies:
In a stand mixer, whisk the room temperature butter and sugar together until smooth.
Whisk in the milk pulps and vanilla extract. Mix until a dough forms.
Cover the dough with plastic wrap and chill in the fridge for 15 minutes.
Preheat the oven to 180°C.
Roll the dough out onto a piece of parchment paper and cut out the dough using a cookie cutter.
Bake the cookies for 15 minutes.
Allow the cookies to cool completely.
Serve the cookies with pink oat milk.
Enjoy!