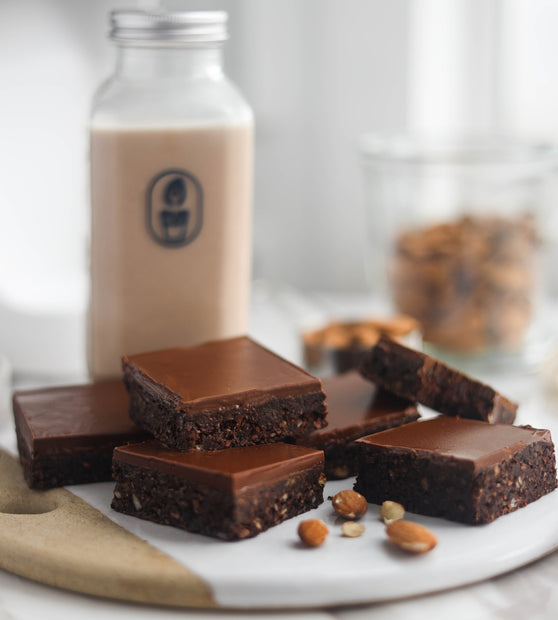 Plant Milk · Pulp Recipe
Almond Chocolate Milk and Raw Almond Brownie Recipe
Whether you're enjoying them as a special treat or sharing them with loved ones, these Almond Cocoa Brownies are sure to satisfy your sweet cravings and leave you wanting more.
Ingredients:
200g whole almonds
80g almond pulp (after processed by Milky Plant)
120g dates
100g cocoa nibs
70g cocoa powder
1/4 tsp sea salt
180g chocolate
15g coconut oil
Instructions:
Melt the chocolate and coconut oil together in a heatproof bowl. Set aside.
In a food processor, add the whole almonds, almond pulps, dates, cocoa nibs, cocoa powder, coconut oil, and sea salt.
Process everything in the food processor until you have a homogeneous mixture. The mixture should be sticky and hold together.
Prepare a baking sheet with parchment paper. Transfer the mixture to the pan and smooth it out, pressing it down firmly to create an even layer.
Pour the melted chocolate and coconut oil mixture over the top of the brownie mixture, spreading it evenly.
Refrigerate the brownies for at least 4 hours or until they are firm.
Once chilled and set, remove the brownies from the refrigerator and cut them into desired-sized pieces.
Serve and enjoy these indulgent Almond Cocoa Brownies!