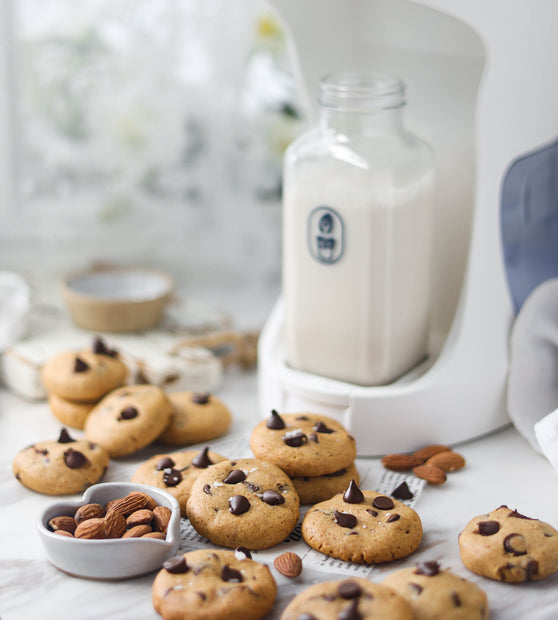 Plant Milk · Pulp Recipe
Almond Milk Pulp Chocolate Chip Cookie
These cookies are crafted using the leftover almond pulp from making Milky Plant made almond milk, giving them a unique texture and a subtle nutty flavour. Each bite is packed with delicious chocolate chips, creating a harmonious blend of sweetness and richness. With their soft and chewy texture, these cookies are a perfect treat for any occasion.
Ingredients:
180g all-purpose flour
100g almond milk pulp (after processed by Milky Plant)
1 tsp baking soda
1/4 tsp sea salt
50g dairy-free butter
50g coconut or brown sugar
100g granulated sugar
1 tsp vanilla bean extract
1/2 cup dairy-free chocolate chips
Instructions:
In a stand mixer, whisk the room temperature butter, brown sugar and granulated sugar together until no lumps remain. Whisk in the almond pulp and vanilla extract. Fold in the chocolate chips.
Refrigerate the dough for 20 minutes.
Preheat the oven to 180°C.
Using a cookie scoop, scoop the dough and place it on a baking sheet.
Flatten each ball with your palm to form a circle.
Bake the cookies for 18-20 minutes, or until the edges are very lightly browned. While the cookies are still warm, add a few extra chocolate chips onto the tops of each cookie.