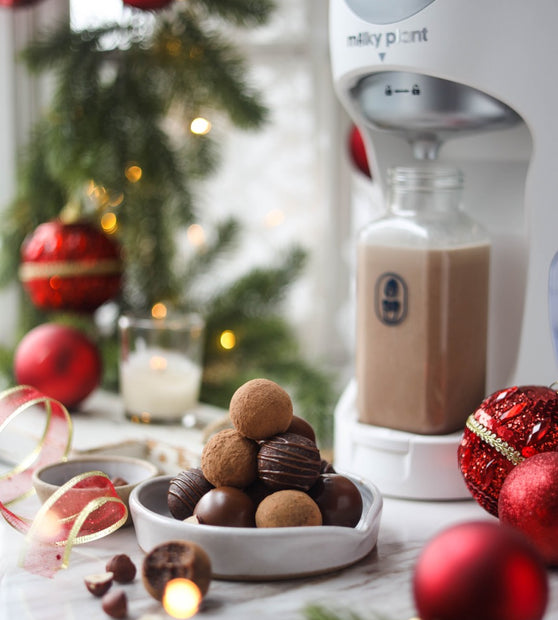 Plant Milk · Pulp Recipe
Hazelnut Chocolate Milk & Chocolate Energy Balls
Satisfy your cravings with these heavenly energy balls that are as delicious as they are energising.
Ingredients:
for the hazelnut chocolate milk: 
1 scoop of hazelnuts
2 tbsp cocoa powder
1 medjool date, pitted
600ml water
for the energy balls:
3/4 cup nuts of choice (used almond & hazelnut)
8-10 medjool dates, pitted
3 tbsp cocoa powder
70g hazelnut pulp (from making chocolate milk)
1 tsp vanilla extract
1/4 tsp sea salt
Instructions:
for the hazelnut chocolate milk:
Add ingredients to the blending compartment. Make sure not to pass the Max line
Fill up the water tank with clean water.
Press the start button and wait a couple of minutes for Milky Plant to work its magic
for the energy balls:
In a food processor, add all energy ball ingredients and process until a paste is formed.
Process until the mixture starts to form a dough.
If it doesn't seem to come together, add a teaspoon or two of hazelnut chocolate milk.
Process the mixture again until it reaches a dough-like consistency.
Grab the mixture and shape it into balls.
Place the energy balls in the refrigerator to harden.
Decorate the energy balls with cocoa powder and chocolate, as desired.