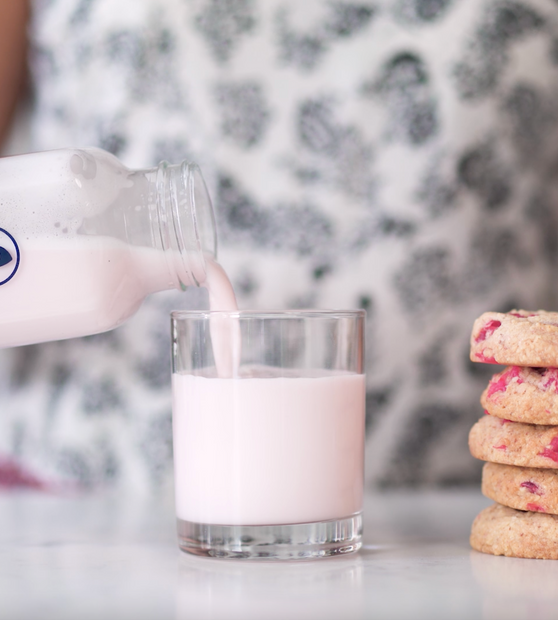 Plant Milk · Pulp Recipe
Cherry Almond Cookies
Sip on cherry almond joy and munch cookies of happiness – flavor fiesta in every bite!
Ingredients:
Cherry Almond Milk:
65g almonds
3 maraschino cherries
Cookies:
110g dairy-free block butter
55g caster sugar
50g brown sugar
1/2 tsp almond extract (optional for extra almond flavor if desired)
100g plain flour
50g ground almonds
1/2 tsp baking powder
Pulp from making cherry almond milk (roughly 70g pulp)
80g maraschino cherries, roughly quartered
Instructions:
Cherry Almond Milk:
Add all the ingredients to the blending compartment. Make sure not to pass the max line.
Fill up the water tank with clean water.
Press the start button and wait a couple of minutes for Milky Plant to works its magic.
Cookies:
Preheat the oven to 160°C/320°F and line two baking trays with parchment paper.
Beat the dairy-free block butter and sugars together until the mixture becomes pale and fluffy.
If desired, add in the almond extract for extra almond flavor.
Incorporate the plain flour, ground almonds, baking powder, and the pulp from making cherry almond milk into the butter-sugar mixture. Mix until well combined.
Gently fold in the roughly quartered maraschino cherries.
Scoop out portions of cookie dough and place them on the prepared baking trays, flattening each portion slightly.
Bake the cookies in the preheated oven for 18-20 minutes or until they turn golden and are baked through.
Once baked, remove the cookies from the oven and allow them to cool on the baking trays.
Once cooled, the cookies are ready to be enjoyed.